Rent a dream ... with skipper
Last events on lake
Lun, 15 luglio 2019
max 6 persons
Services offered on board: Skipper, Hostess, Drinks (Water, Coca, Prosecco) Artisan Pastry.
more
Mar, 16 luglio 2019
max 6 persons
Services offered on board: Skipper, Hostess, Beach Towels, Drinks and Appetizers (Water, Coca, Prosecco).
more
We do not want to be remembered as a 'boat rental' but as a wonderful experience on Lake Maggiore
Rent Offshore Lago Maggiore offers you a charter service with skipper and hostess on board a Tullio Abbate Offshore 36 boat. Our services can be personalized to fit all your needs, a special way to understand the "rent boat ".
The boat is based in Verbania Pallanza at the CARCANO MOTORI MARINI shipyard; the location in the centre of the lake allows to plan the best routes containing fuel consumption.
Of course it will be possible to agree on another place of boarding of your choice.
To ensure maximum privacy no written announcement appears on the boat.
Welcome on board, Marino Guglielmi
Dedicated and customizable cruises
We will agree on the route, departure and arrival times to allow you to admire the best of Lake Maggiore. On board you will find drinks, snacks and beach towels. On request we will be happy to book selected restaurants
BOOK NOW!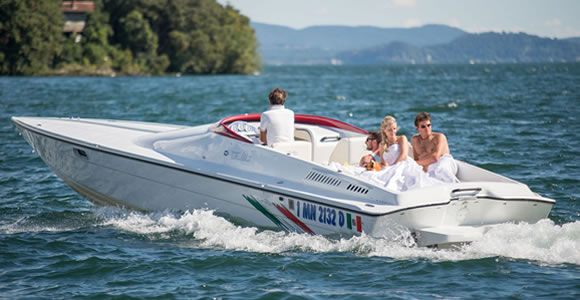 Rent Offshore Lago Maggiore HD
Karen, Lun, 10 giugno 2019
FIVE STARS ~ AMAZING! This is a must if you are visiting Lake Maggiore we went on a lunch mini cruise to Isola Pescatori. Our wonderful hosts, Marino & Stefania took us to the island in their amazingly stylish boat; we had a delicious meal at the Belvedere Restaurant which our hosts had recommended & booked for us Then we had an explore of the pretty island and got back on board for the rest of the mini cruise we gently cruised & explored round the lake and then we found out how fast this amazing boat can go (and it wasn't at full speed either!) I can't recommend this enough, our hosts were professional, knowledgeable, friendly and couldn't do enough I also haven't smiled or laughed so much in ages; thank you for making it special Marino & Stefania
READ ALL REVIEWS
INSERT YOUR REVIEW